The inau­gu­ra­tion cer­e­mony of the water­front on the Huangpu River could hardly have been more spec­tac­u­lar. To coin­cide with its open­ing on 31st Decem­ber 2018, there was snow­fall in Shang­hai, the rare white blan­ket pro­vid­ing an extra touch of gloss to this freshly land­scaped park – much to the delight of the res­i­dents in the Chi­nese metrop­o­lis. Using Olivio system lumi­naires, the reserved light­ing sets visual accents, while at the same time turn­ing the water­front into an entic­ing space for adven­ture and relax­ation, both by day and night.
The goal was to find the best way to revi­talise the east­ern water­front along the Huangpu River. The vision for the water­front between the Yangpu Bridge in the North of Shang­hai and the Xupu Bridge in the south, 45 km long in total, was to create a ver­sa­tile, sus­tain­able public green­space that remains attrac­tive what­ever the season. Impor­tant objec­tives of its usage con­cept were to fur­ther the health and well-being of cit­i­zens and enrich their lives by offer­ing oppor­tu­ni­ties for sport, games and simply sojourn­ing in the fresh air.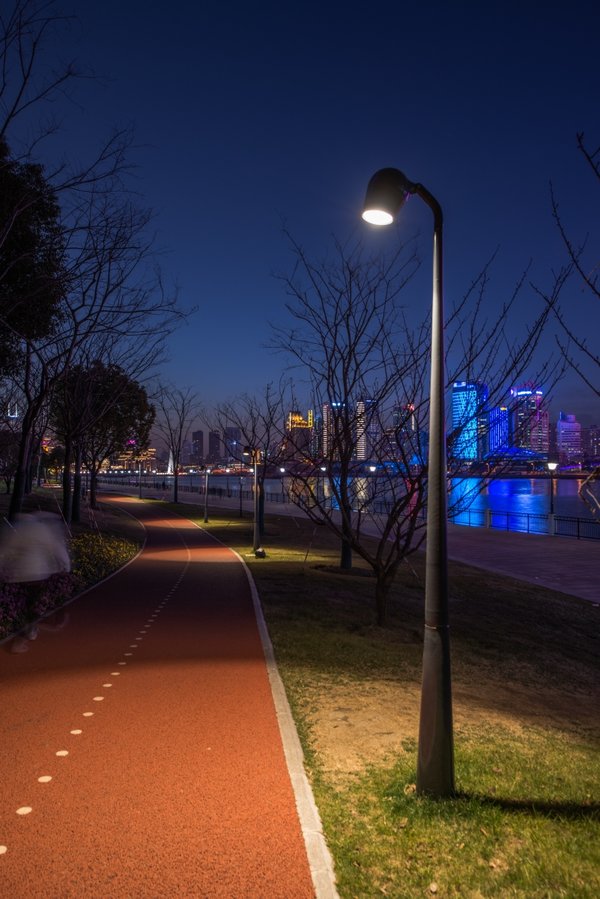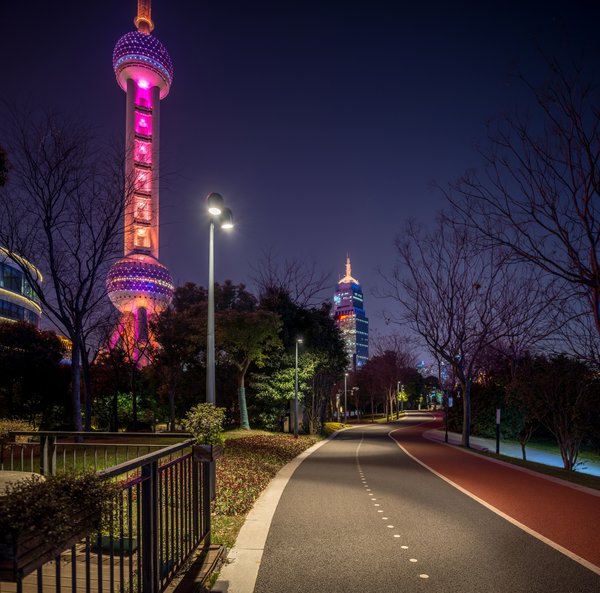 Feel-good ambi­ence, light qual­ity and effi­ciency are the cri­te­ria pur­sued by the light­ing solu­tion here, com­pris­ing Olivio system lumi­naires across a 21 km long sec­tion of the water­front known as The East Bund. With its organic floral shape, the Olivio blends har­mo­niously into the sur­round­ing envi­ron­ment, sup­ple­ment­ing the land­scape plan­ning by set­ting reserved yet dis­tinc­tive light­ing accents. Paths and squares are lined with 3.5 m or 4.5 m pole-top lumi­naires from the Olivio Can­de­labra series equipped with one or two Olivio Medio LED lumi­naire heads, depend­ing on the size of the area. From squares dec­o­rated with benches to cycle paths con­nect­ing the newly land­scaped park to the city centre, the Olivio lumi­naire system is deployed here flex­i­bly in a highly diverse range of light­ing sit­u­a­tions along the newly designed water­front. Rota­tion-sym­met­ri­cal, wide-beam­ing reflec­tors ensure soft light, pro­vid­ing an invit­ing atmos­phere for vis­i­tors and ensur­ing safety while jog­ging, cycling, walk­ing or simply sojourn­ing in the park. A colour tem­per­a­ture of 3000K and CRI 80 also help enliven the expe­ri­ence of this urban water­front land­scape at night­time.